Recently, this set of questions has been popping up a lot on Twitter. Although it's not really classed as a tag, the questions seemed to be a good starting point for a blog, so here we are! The entire question list was pretty long so I've picked out some of my favourites. Enjoy!
Very First Video Game
So my very first video game was The Legend of Zelda: Twilight Princess. When I was a kid pretty much all of the family games came from car boot sales, so when my stepdad picked up Zelda and brought it home I was thrilled to see a purchase that wasn't Wii Sports/Party/Play. I was instantly obsessed with this game and finished Twilight Princess in under a week! It's been nine years since I completed Zelda for the first time and its always stuck with me. It will always be the game that kindled my love for video games. Thank you, Zelda!
Best Soundtrack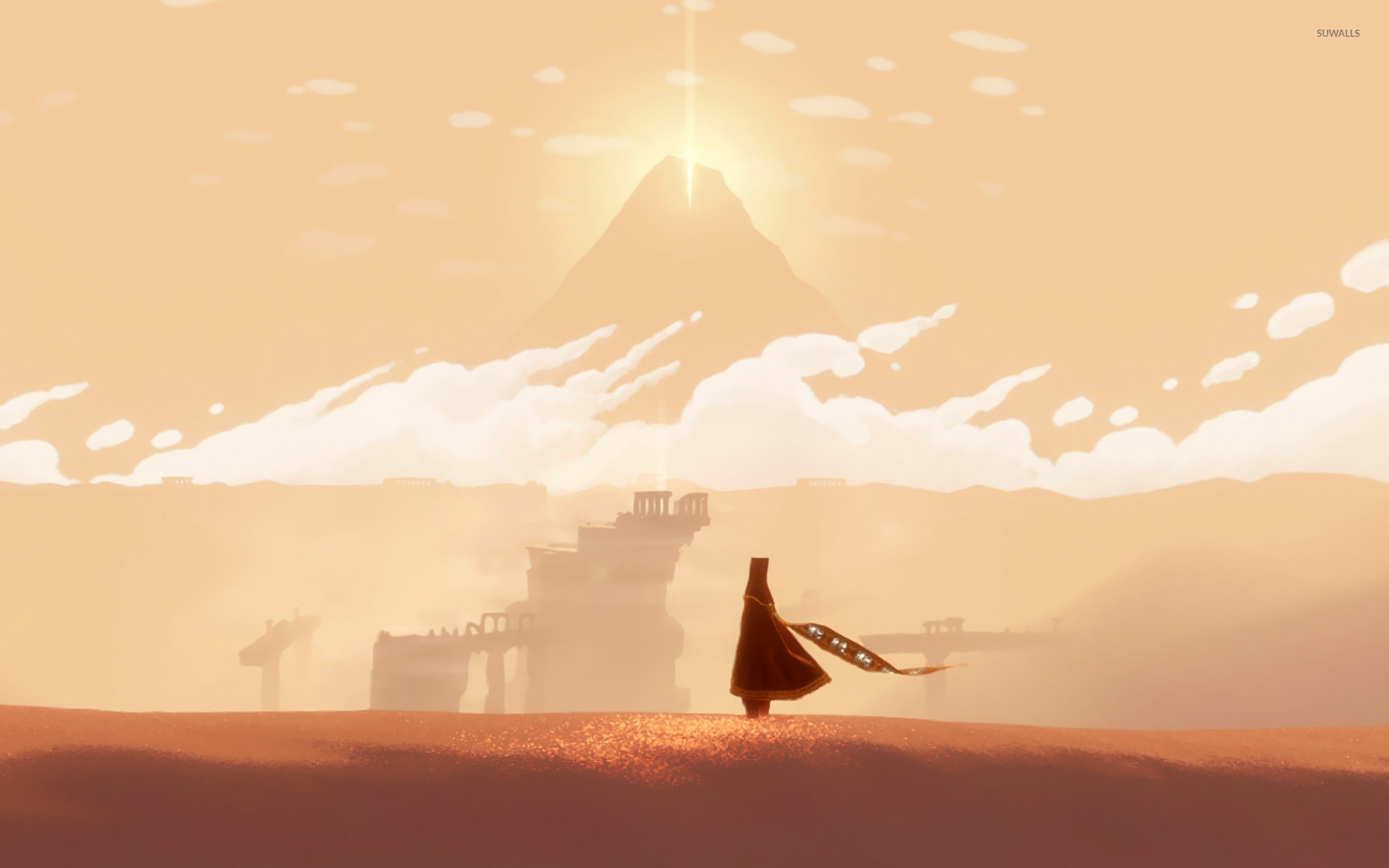 To me, Journey is the game to play if you want to relax. It's the game that I come back to when I want to kill time and just enjoy my surroundings. Whilst I was on my second play through I took a backseat from the story and began to notice how peaceful and moving the soundtrack was. Ranging from soft mellow tones and sudden louder tempos that mirror the mood of the game perfectly, the soundtrack to Journey is mind blowing. I've actually bought the soundtrack on iTunes and I listen to it when I'm working or driving somewhere because I find it so relaxing. Even if you haven't played Journey (what are you waiting for?!) everyone should listen to Austin Wintory's beautiful score, its simply breath taking.
Picture of a Game Setting You Wish You Lived In

Abzu is a somewhat similar game to Journey, but set underwater. The use of soft colours and dreamy light makes the atmosphere in Abzu so calming and tranquil. I love swimming and the warm, tropical waters that fill the world of Abzu seem so peaceful to lose myself in. I've often found myself admiring screenshots of this game for far too long simply because I'm astounded at how good and well-executed the game design is. Similar to the game Journey, Abzu also has a soothing soundtrack which would make living in this watery world even more peaceful and relaxing. Sign me up!
Your Current Favourite Video Game

At the minute I'm immersing myself in The Last Guardian and I'm absolutely in love with it! The graphics, the art style and the story are incredible. The seven year wait between announcement and release have been completely worth the wait for me, as the game delivers on the hype ladled on it effortlessly. Not only do I love the gameplay but I love Trico! The huge cat/dog/bird hybrid plays the role of your companion throughout the game. He acts so much like a real animal that I find myself constantly watching him, waiting for him to sneeze or scratch his ears so I can mew at him with adoration.
A Game You Thought You Wouldn't Like But Ended up Loving

As  I stated in a previous blog post Bloodborne is a game that I would have normally avoided had I not seen all of the rave reviews. On a whim I bought Bloodborne and that's a decision I'll never regret. On my journey into Yharnam I found myself unveiling a rich backstory and lore that was hidden behind the brutal slaughter of its fierce beasts. To this day, its my second favourite game of all time. which brings us to..
*drum roll please*
Your Favourite Game of all Time

I had the good fortune of playing the Last of Us on both the PS3 and the PS4. Both times I played it I was astounded by the quality of story, gameplay and graphics. Naughty Dog have always produced fantastic games and The Last of Us is no exception. With incredible voice acting and a cast characters whom you feel a connection with The Last of Us is a first class game. I'm a sucker for post apocalyptic stories and when this was released I just knew that I would love it, and I did. The Last of Us is easily my favourite game of all time and I'm hoping that its successor, The Last of Us Part 2 will be a worthy successor. See you soon, baby girl.